Hardware

Stuff
Sponsored by Darrin Massena
Brought to You by Luiz Coutinho


visitors since September 2nd 96 - Last Update 07/01/05


Hardware 'n' Stuff pages
[ How to Open (Voiding Warranty) ] [ Don't Do This ] [ My Conventions ]
[ The Cradle

] [ The Memory ] [ Communications ] [ Power Supply

]
[ Main CPU ] [ Display ] [ Modems ] [ Main Components ] [ Enhancements ]



Pilot links you should visit ...
[ Brazilian Pilot Information

] [ Cool Software ]
[ Calvin's Pilot FAQ ] [ Pilot Gear H.Q. ] [ Steve's Hardware Page ]
[ US Robotics ] [ Pilot Software Development Page ]


BEWARE WITH THE DOG !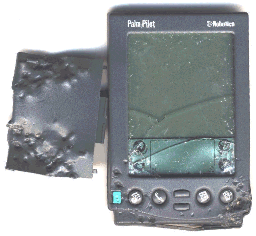 "Jeff Lipsman <Xjeff@dataflight.com> wrote in article <33569063.D0D@dataflight.com>...
Yes, it is true, my Weimaraner ate my new Pilot Professional. I only left the house for a minute. She went into the bedroom, nabbed the Pilot off of the nightstand, walked back to her lair, and had lunch. There were only scraps left of the leather case.

She was very contrite when I came back home, but I couldn't figure out why until later that evening. I was looking for the Pilot when I suddenly remembered her guilty looks earlier in the day.

I have to give it to USR. Her teeth punctured the back of the case, and she broke the glass screen, but she didn't puncture or tear the plastic that covers the screen, so no glass got out.
---
Warning: Don't try to open your Pilot if you are not familiar with small and sensitive electronic devices. By opening your Pilot you are voiding its warranty. You can see our photos and keep your warranty.
© 1996 Luiz Coutinho.
U.S.Robotics and the U.S.Robotics logo are registered trademarks and Palm Computing, HotSync, Palm OS and the Palm OS logo are trademarks of U.S.Robotics and its subsidiaries. All other trademarks or registered trademarks are the property of their respective owners.