---
12. Hardware Enhancements: ( no warranties )
---
To have better and louder audio check my audio adapter
To upgrade Pilot's memory check Steve's Hardware Page
To double Pilot's speed upgrade to 1M memory module. This module has 16 bit data bus.
Other modules (128K and 512K) have 8 bit data buses. Check yourself speed differences downloading PilotMar at Darrin's Software Development Page .
To stop worrying about built in pen. You can tape internal holder for better support...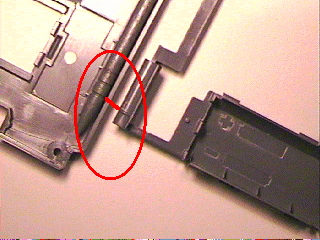 Missing keystrokes ? Can you please bring me some swabs and alcohol ? (At gold contacts ONLY !)

---
More to come... Suggestions welcome...
---
[ Previous Page ] [ Main Page ]